Key Features and Advantages
Embrace unparalleled productivity with our dual motor standing desk's exceptional speed of 32 mm/s.
Experience smooth and seamless transitions between sitting and standing positions.
Which allows you to adapt your workspace effortlessly to your preferred height. Say goodbye to slow and cumbersome adjustments and embrace a dynamic work environment that keeps up with your pace.
Peaceful and Distraction-Free.
Immerse yourself in a calm and focused atmosphere thanks to the desk frame's low noise level, measuring at less than 50 dB. This lets you enjoy uninterrupted concentration as you tackle tasks and projects. And free from the distractions of loud or disruptive motor noises.
With our desk, your work environment remains tranquil, fostering a conducive space for creativity, focus, and productivity.
BH-D23RS dual motor standing desk offers a height from 625-1275mm/24.6-50.2inches or customized.
Which provides you with ample flexibility to find the perfect standing position. Whether you prefer a higher elevation for increased energy and engagement or need to accommodate taller individuals. B&H desk ensures customizable options to suit your specific needs.
Available in three elegant colors – White, Black, and Grey. B&H desk base effortlessly blends with any office decor. Which adds a touch of sophistication to your workspace. Customized color special design for your project is also available.
No visible screws can be found on the base once you set up the tabletop.
Built to last, the robust construction of our desk base ensures stability and reliability. And providing a solid foundation for your work setup. With a load capacity of 130kg, it can easily accommodate multiple monitors and other essential equipment.
Get ready to elevate your productivity, prioritize your well-being, and create a workspace. That inspires you with our exceptional dual motor standing desk. Experience the perfect blend of functionality, style, and ergonomic benefits. Which will revolutionize the way you work and enhance your overall work-life balance.
When it comes to finding the perfect standing desk frame for your business, the BH–D23RS is the ideal choice. This dual motor standing desk frame has a wide range of heights and a stable design, and it's available with attractive customization options. Plus, it comes with a warranty, so you can be sure it will last for years to come.
Unlock the potential to elevate your brand with our exceptional customized service. No matter needs a customized height range, length range, or any unique design. B&H has a professional team to help your drawings come true
Stand out from the competition by leveraging our OEM service to incorporate your logo, colors, and branding elements into the desk design. With our meticulous attention to detail and commitment to quality. B&H ensures that your brand identity shines through, enhancing customer recognition and loyalty.
Partnering with us means gaining access to our expertise and industry-leading technology.
Our experienced team will guide you through the entire OEM process.
From initial concept development to manufacturing and quality control, ensuring that your brand receives the highest level of service and product excellence.
Confidentiality and Trust
B&H values the confidentiality of our OEM/ODM partnerships. Rest assured that your proprietary information, designs, and intellectual property will be treated with the utmost confidentiality and protected throughout the entire collaboration.
Take advantage of our OEM service to create a lasting impression with a custom dual motor standing desk. Embodies your brand values. Let us be your trusted partner in delivering exceptional products that elevate your brand presence and meet the unique needs of your customers.
Inquire Sample Today!
Perfect Ergonomic Partner for Your Business!
Benefits of B&H Dual Motor Standing Desk
If you're looking for the perfect ergonomic partner for your office furniture distribution or dealer business, then look no further than the Dual Motor Standing Desk Frame.
This highly adjustable frame allows you to adjust its height to suit your individual needs—making it an ideal choice for those looking to improve their comfort and overall health in the workplace.
Ergonomics is a key factor to consider when selecting a desk. B&H's dual motor standing desk can provide unparalleled ergonomic benefits that can help to improve your health and productivity. With its two motors, this type of desk can be adjusted to a wide range of heights, allowing you to customize the fit of your desk to your own body size and shape.
This makes it easier to find the perfect ergonomic position for your body, and helps to reduce muscle strain and fatigue. Furthermore, the dual motors provide a smoother and quieter transition when adjusting the height of the desk, making it easier and more convenient to use. This makes it easier to maintain a comfortable and ergonomically correct posture throughout the day, helping to improve your overall health and wellbeing.
Standing Desk Help Combat the Effects of Sitting Disease
The average American adult spends more than seven hours each day sitting, according to the Centers for Disease Control and Prevention. Unfortunately, this kind of sedentary lifestyle can lead to a whole host of health problems, including obesity, heart disease, and even cancer. But with a standing desk, you can help offset the harmful effects of sitting all day. A standing desk allows you to stand or sit as needed throughout the day, which can help you avoid the dangers of sitting disease.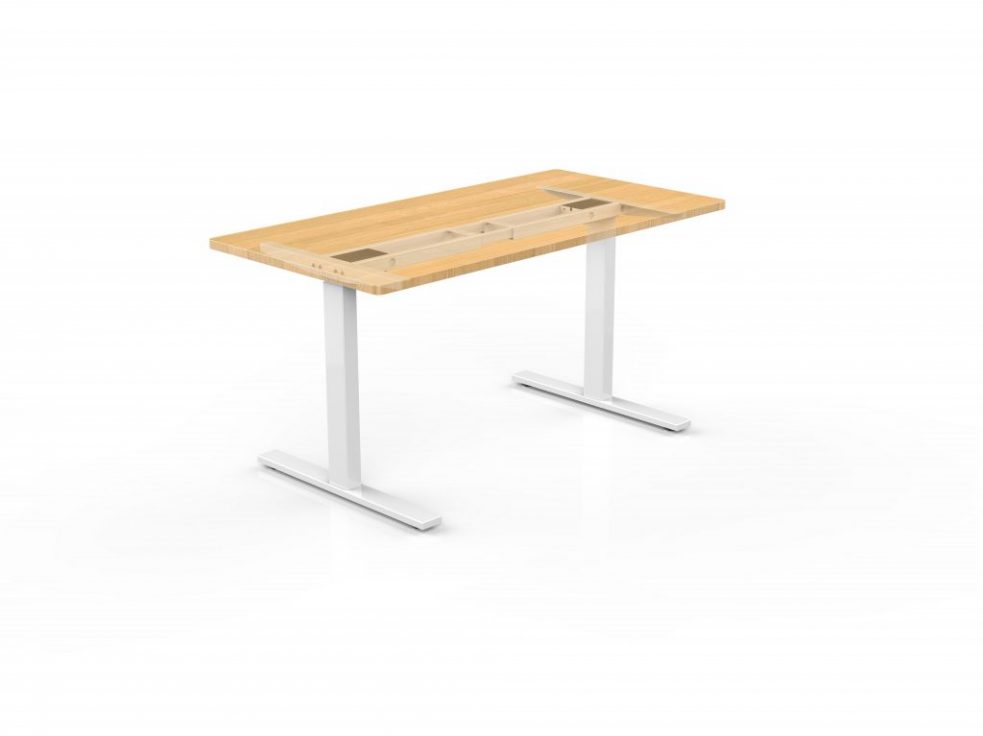 A standing desk isn't just beneficial for your physical health; it can also have a positive effect on your mental health and productivity. Studies have shown that standing desks can improve focus and concentration, reduce fatigue and stress, and even boost energy levels.
The greater range of height adjustment helps you to maximize the efficiency of your workspace. It can be adjusted to the ideal height for your specific needs, whether you're typing on a laptop or writing on paper. Furthermore, the smooth, effortless height adjustment allows you to make adjustments quickly and easily, so you can stay focused on your work.
Standing desks can also help improve your posture, which can reduce shoulder and back pain. And because standing desks help to increase blood circulation, they can also reduce venous problems, improve digestion, and help keep your brain energized.
FAQ of Dual Motor Standing Desk: